The Talbot-Lau Effect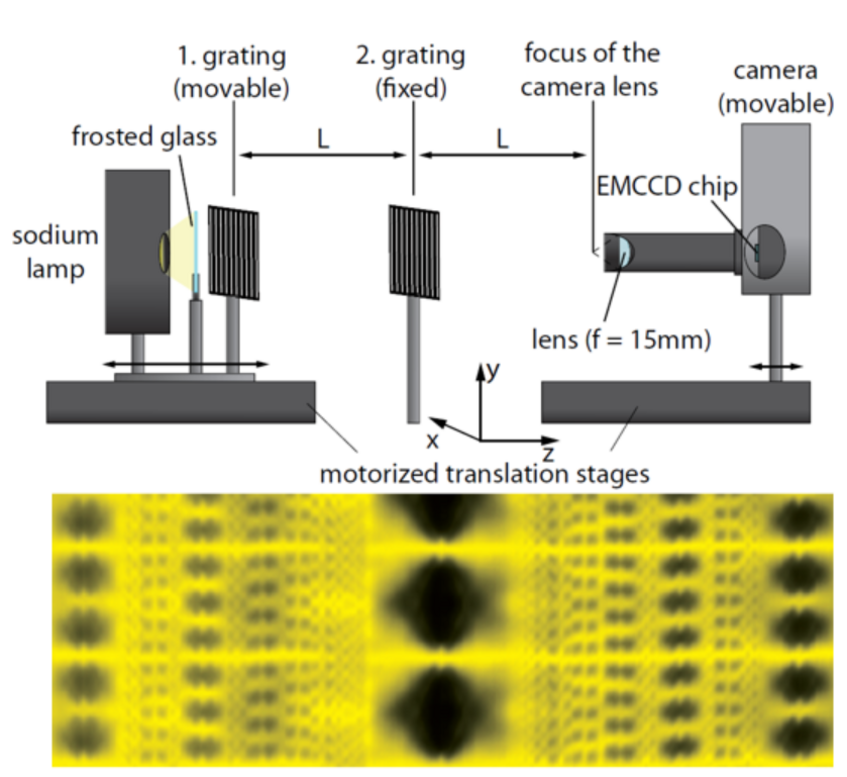 The Talbot-Lau Effect
Not all light sources exhibit sufficient spatial coherence to allow observing the Talbot-Effect.
Coherence can, however, be established by virtue of single-slit diffraction in an array illuminator, as first discussed by E. Lau in 1948 [1]
In this arrangement it is sufficient to use a relatively well monochromatic wave without initial spatial coherence. In a high-school experiment this may, for instance, be a simple sodium lamp.
While a single grating prepares coherence, it does not yet produce a intensity pattern on a screen.
This can be established by adding a second grating, at a multiple of the Talbot distance and the detector symmetrically in the same distance further downstream.
Again, self-imaging can be observed. This trick, first proposed for matter-waves by John Clauser [2] has become the basis for all near-field matter-wave interferometers run by the QNP group at the University of Vienna[3-5].
It has also gained recent technological relevance in other fields where refractive and reflective optics is a challenge, such as X-ray imaging[6].
E. Lau, Beugungserscheinungen an Doppelrastern, Ann. Phys. 6, 417 (1948).
W.B. Case, M. Tomandl, S. Deachapunya, M. Arndt, Realization of optical carpets in the Talbot and Talbot-Lau configurations, Opt. Express 17, 20966-20974 (2009).
B. Brezger, L. Hackermüller, S. Uttenthaler, J. Petschinka, M. Arndt, A. Zeilinger, Matter-Wave Interferometer for Large Molecules, Phys. Rev. Lett. 88, 100404 (2002).
S. Gerlich, L. Hackermüller, K. Hornberger, A. Stibor, H. Ulbricht, M. Gring, F. Goldfarb, T. Savas, M. Müri, M. Mayor, M. Arndt, A Kapitza-Dirac-Talbot-Lau interferometer for highly polarizable molecules, Nature Physics 3, 711-715 (2007).
P. Haslinger, N. Dörre, P. Geyer, J. Rodewald, S. Nimmrichter, M. Arndt, A universal matter-wave interferometer with optical ionization gratings in the time domain, Nature Physics 9, 144–148 (2013).
F. Pfeiffer, M. Bech, O. Bunk, P. Kraft, E.F. Eikenberry, C. Bronnimann, C. Grunzweig, C. David, Hard-X-ray dark-field imaging using a grating interferometer, Nature Materials 7, 134 (2008).